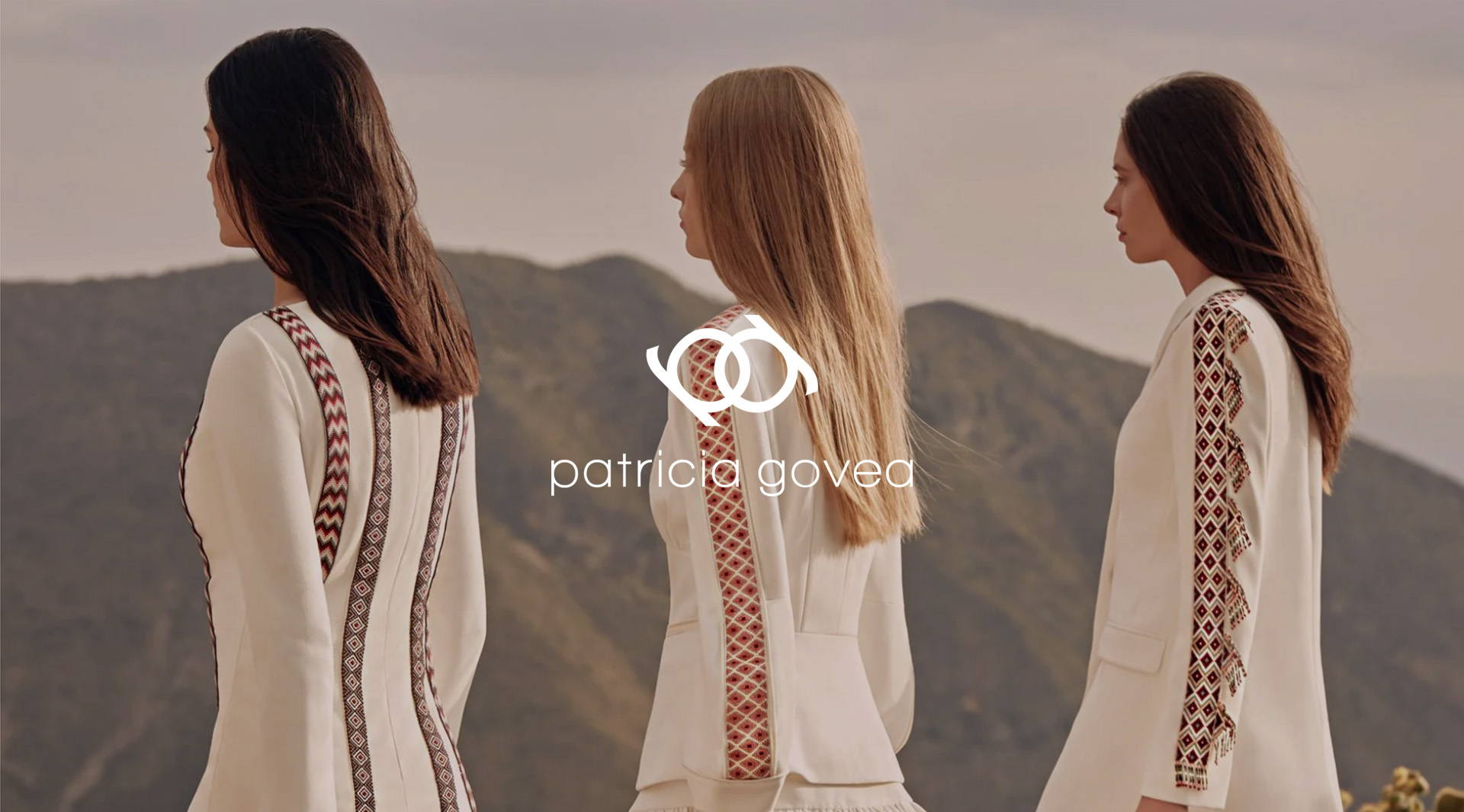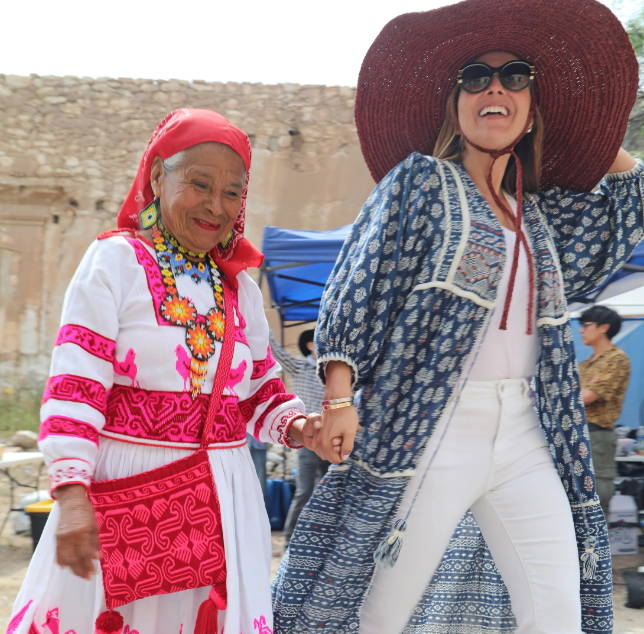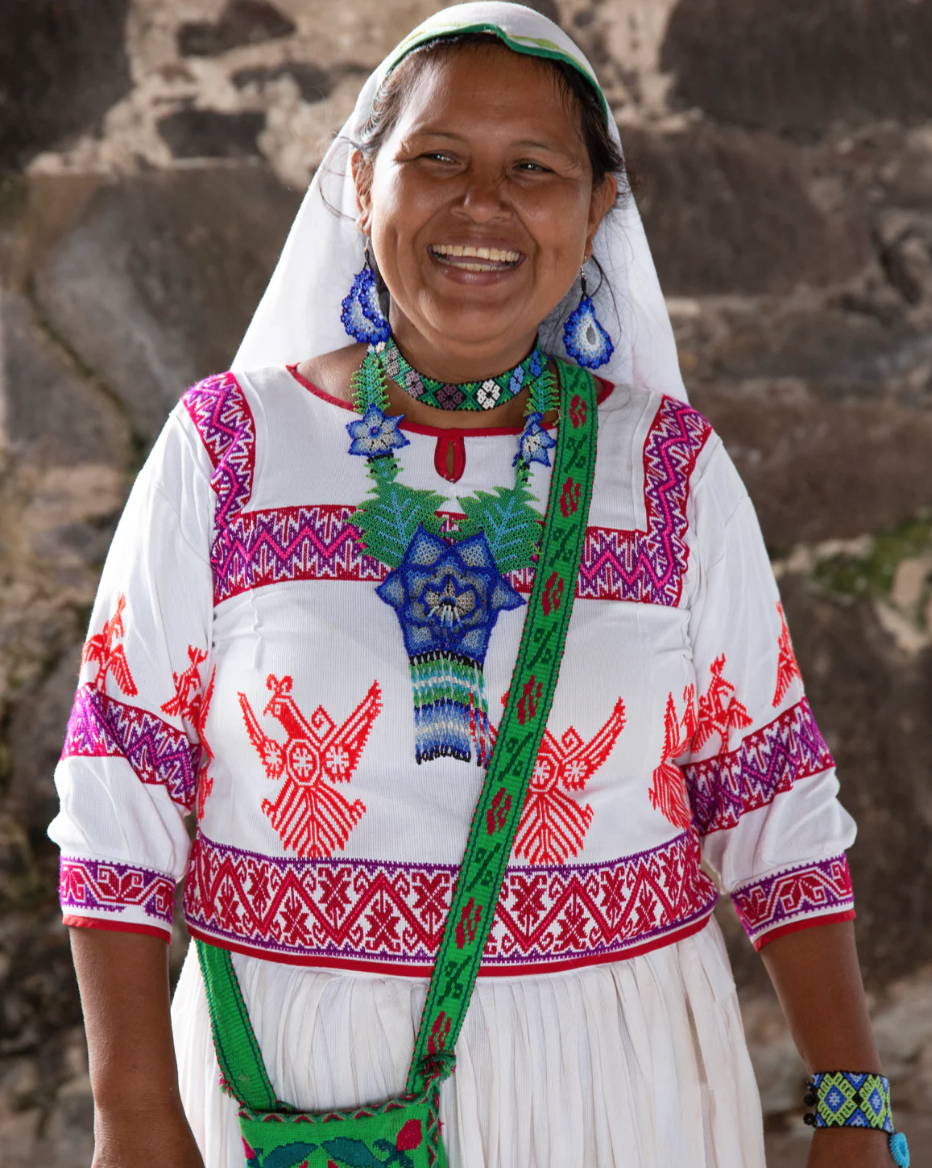 The vision of the Patricia Govea brand comes from this fusion of the harmonic symbiosis between what is new and what has always existed.
Wixárrika art tells us about its cosmogony — the story of how their gods created the universe, which originated in a single drop of seawater beneath the moon, before the sun was born.
The customs, symbols and colors through which the Wirrárika express themselves are integrated in the aesthetic of Patricia Govea's creations, turning the wearing of a garment into an act of transference, momentarily allowing the profound and generous cosmogony to touch the world.
For us, fusing the ancestral methods with haute couture goes beyond any industrial production. It is a righteous cause that allows us to thoroughly change the lives of the Wixárrikai communities.
The vision of the Patricia Govea brand comes from this fusion of the harmonic symbiosis between what is new and what has always existed.
These small communities, spread across the Sierra Madre Occidental, have corn planting as their primary activity, which only lasts three months a year. This forces its inhabitants to earn their living in regions far away from their birthplace. Jobs, schools and health centers are hours away.
We've built the Patricia Govea project by creating a work program which has at its core the hard work and dedication of the Wixárrika women.
We've established educational literacy programs and are building bridges so that health services can reach the Wixárrika communities.
We encourage the creation of Societies of Social Solidarity, where the women who integrate into the company can obtain legal personality, becoming partners and stockholders and allowing for the continual development of their communities and the preservation of their culture.
The Patricia Govea Collection highlights the essence of the Wirrárika Culture. Woman stitching threads with heart and hope for a better world. A world that watches, listens and belongs to us all.
"For a better life, for a better future."
Patricia Govea began her career in the fashion industry, after graduating from fashion design school.
During her travels, she saw a long line of people waiting to appreciate a piece of art at a museum in Paris. She was surprised to discover that this enigmatic and mystical artwork, full of hidden phrases, secret passages and a story to tell, was from her home state of Nayarit in Mexico, and was made by indigenous Wirrarika people.
This led to a revelation that Patricia didn't have any idea about who her people were, what her culture was and, most importantly, the circumstances of how this ethnic group lived. This experience awoke a curiosity to know more about this ancestral and mysterious culture.
Patricia began thinking about what she could do for this forgotten and invisible community. What came to mind was a clothing line, with beautiful, handmade embroidery that promoted their heritage as well. This became her dream.
Patricia began educating herself about the culture in Mexico and learned that 22% of the population is indigenous, with the majority of them living in the mountains in remote locations. With little access to transportation, these communities lack opportunities for education, jobs, health services and participation in Mexico's economy. Frequently, they suffer discrimination and segregation. Reading about the culture fascinated her, but realizing their terrible circumstances devastated her.
Following this purpose, Patricia began searching for skilled female indigenous artisans. She soon met Lourdes, a national indigenous leader who is a single mother and a strong woman with remarkable values who is a fighter for justice in her community. Lourdes was the person who opened the door for Patricia to introduce her to the indigenous Wirrarika community.
Together, Lourdes and Patricia made a precarious journey up to the mountains. It was the first time in Patricia's life that she visited indigenous communities. This experience changed her, bringing her profound respect towards their ethnicity and traditions, while at the same time making her conscious of their community. She became motivated in helping solve one of their major problems, which was the lack of job opportunities.
When Patricia and Lourdes arrived at the village and met the group of indigenous women, Patricia felt an immense amount of empathy and connection to them. At that moment, Patricia felt that she could do more for the community and knew that this was her calling.
Back home, Patricia created a business plan and met with government officials in Mexico to integrate education programs and health services into the project and support the people who would be working with her.
Her experience at the mountains was an unforgettable life lesson. Patricia felt an extreme sense of vulnerability and empathy for the women, respect for their culture and values, and an appreciation for these artists who make handicrafts from the soul.
For Patricia, it has been a journey of personal growth. She says, "I have learned more from them than they have learned from me. This project has been a vehicle for me to appreciate everything that I have taken for granted."
Starting out by training a group of 25 women in 2015, there are now 300 artisans united under one dream: to have a better life.